Special Collections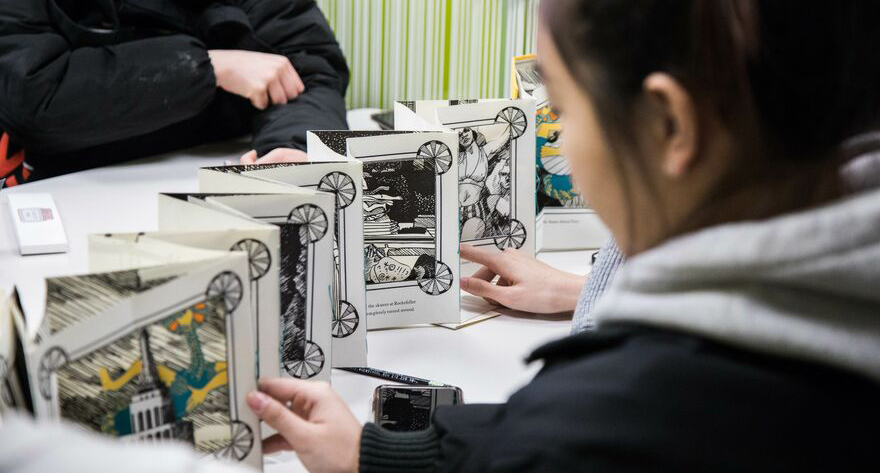 Our Special Collections consist of published materials in the form of rare and unique books, periodicals (magazines, journals, zines), recordings and scores. They are non-circulating, meaning researchers can consult Special Collections in library and archives spaces by appointment, but they cannot be borrowed or loaned. 
To schedule an appointment, use our Contact Us Form.
Collection Strengths
New School Publications
Publications by university centers and academic programs, students, and faculty.
Music
Twentieth century American composers of classical music are heavily represented, with scores by Peter Pindar Stearns, William Sydeman, David Loeb, and Frederick Werle.
Art and Design
Art and design special collections include hundreds of artists' books, photography first editions, historical costume periodicals with hand colored illustrations, classical architecture books, projects by Parsons School of Design students and faculty, catalogues raisonnés, and back issues of rare periodicals, including Visionaire magazine. 
---
Instruction
If you are a New School instructor and wish for your class to use Special Collections resources, please contact speccoll@newschool.edu with two weeks notice to discuss options, or complete this Instruction Request Form. Class visits of 1-2 hours take place in the University Center Library and can be scheduled during the library's hours of operation. Our guide on Instruction is another helpful resource with suggestions for class engagement with primary sources created by staff archivists.
---
Artists' Books
Most of The New School's artists' books are part of our Special Collections. 
For a comprehensive search of artists' books available at The New School, go to the library catalog's advanced search screen. Select 'Subject' 'Contains' and type the exact words "artists' books" (in quotation marks). Under Material Type, select Book. From the list of results, under "Refine My Results," select "Library (New School)" and check the box New School Archives.
You may also browse a selection of images from a subset of artists' books at The New School as a way to identify material of interest.
 

A small selection of artists' books found in The New School's University Center Library, identified by call number N 7433.4, are not Special Collections. These books are limited to New School and library consortium students, faculty and staff, or guests through the METRO referral program.
A sample instructional plan incorporating artists' books can be accessed through this Google Doc.