Special Collections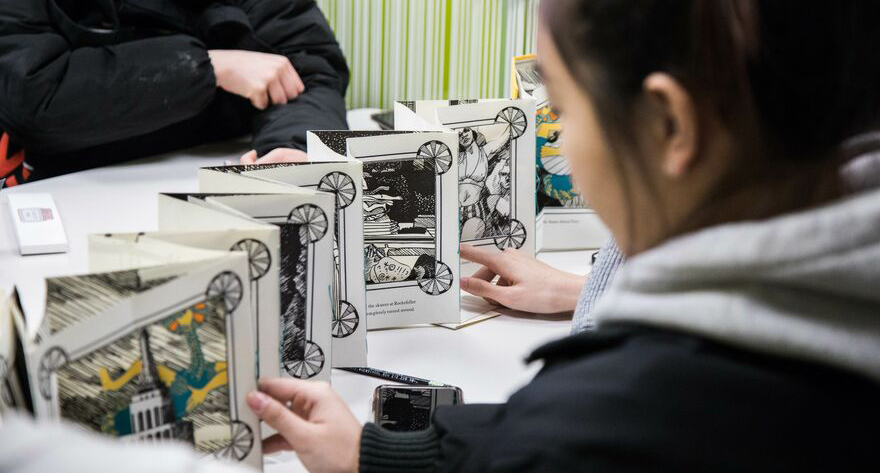 COVID-19 UPDATE
From March 2020 until further notice, in-person appointments for conducting research in The New School Libraries and Archives are suspended. Please check the New School Libraries website for up-to-date information about Library services during the COVID-19 pandemic.
We encourage researchers to try locating copies of their requested items through the New York Public Library, or through the Internet Archive. Members of The New School community can try placing Interlibrary Loan requests using this video tutorial.
---
Collection Strengths
Our Special Collections consist of rare and unique books, periodicals, recordings and scores. Collection strengths include:
New School Publications
Publications by university centers and academic programs, students, and faculty.
Music
Twentieth century American composers of classical music are heavily represented, with scores by Peter Pindar Stearns, William Sydeman, David Loeb, and Frederick Werle. Also of note are Teodor de Wyzewa's biography of Mozart; personal scores by soprano Rosa Ponselle for the Metropolitan Opera; and a first edition of Leopold Mozart's, "A Treatise on the Fundamental Principles of Violin Playing."
Art and Design
Art and design special collections include hundreds of artists' books, photography first editions, historical costume periodicals with hand colored illustrations, classical architecture books, projects by Parsons School of Design students and faculty, catalogues raisonnés, and back issues of rare periodicals, including Visionaire magazine. 
---
Artists' Books
Most of The New School's artists' books are part of our Special Collections. 
For a comprehensive search of artists' books available at The New School, go to the library catalog's advanced search and add the subject "artists' books" (in quotes). From the list of results, you can filter to show artists' books that are at The New School.
You may also browse a selection of images from a subset of artists' books at The New School as a way to identify material of interest.
A small selection of artists' books found in The New School's University Center Library, identified by call number N 7433.4, are not Special Collections. These books are limited to New School and library consortium students, faculty and staff, or guests through the METRO referral program.
If you are a New School instructor and wish for your class to use artists' books, please contact speccoll@newschool.edu with ample notice to discuss options.